HPC meets interactive Data Science and Machine Learning
Carme (/ˈkɑːrmiː/ KAR-mee; Greek: Κάρμη) is a Jupiter moon, also giving the name for a Cluster of Jupiter moons (the carme group).
or in our case…
an open source framework to manage resources for multiple users running interactive jobs on a Cluster of (GPU) compute nodes.
Follow us on Twitter
Presentations
Marketing Slides
Selected Conference Presentations
Core Idea
We combine established open source ML and DS tools with HPC backends and use therefore
web based GUI frontends e.g. Theia-IDE and JupyterLab
completely web frontend based
(OS independent, no installation on user side needed)
HPC job management and schedulers (SLURM)
HPC data I/O technologies like Fraunhofer's BeeGFS
HPC maintenance and monitoring tools
Job submission scheme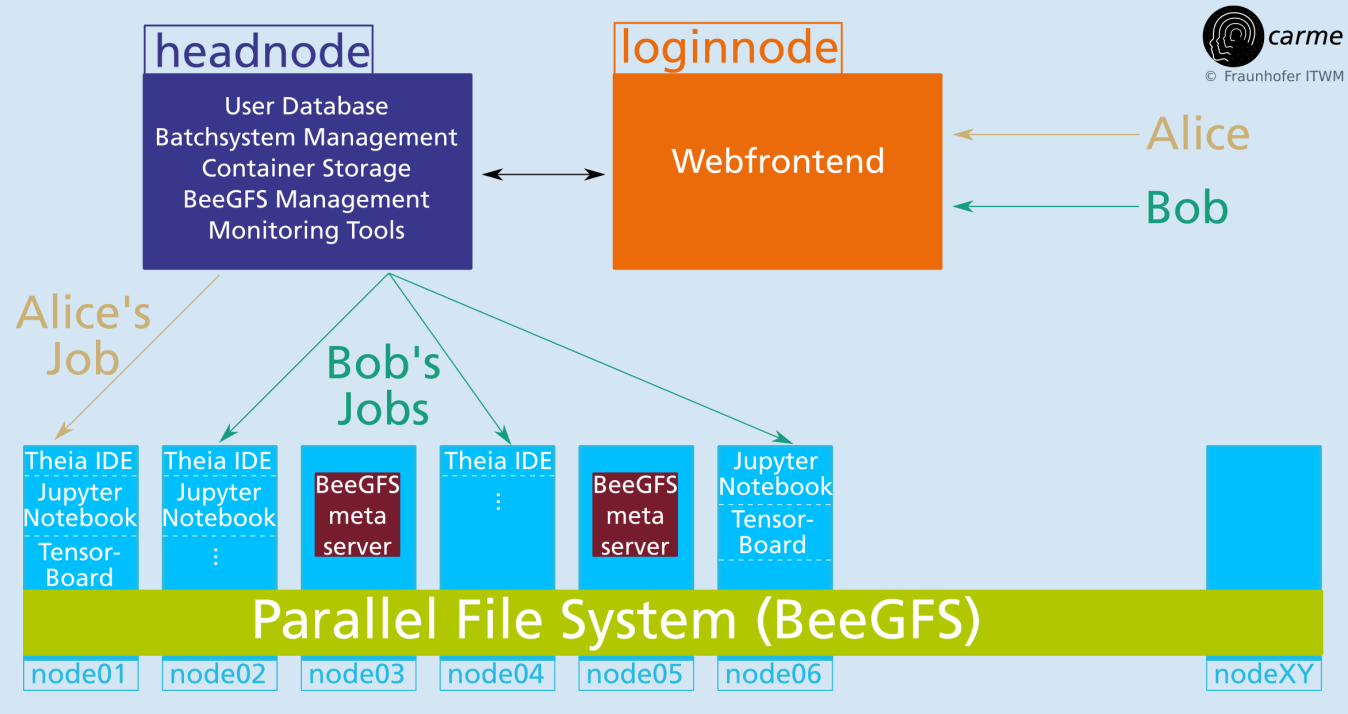 Key Features
Open source

we use only opensource components that allow commercial usage
Carme is open source, allowing commercial usage

Seamless integration with available HPC tools

Job scheduling via SLURM
Native LDAP support for user authentication
Integrate existing distributed file systems like BeeGFS

Access via web-interface

OS independent (only web browser needed)
requires 2FA
Full user information (running jobs, cluster usage, news / messages)
Start/Stop jobs within the web-interface

Interactive jobs

Flexible access to GPUs
Access via web driven GUIs like Theia-IDE or JupyterLab
Job specific monitoring information in the web-interface
(GPU/CPU utilization, memory usage, access to TensorBoard)

Distributed multi-node and/or multi-gpu jobs

Easy and intuitive job scheduling
Directly use GPI, GPI-Space, MPI, HP-DLF and Horovod within the jobs

Full control about accounting and resource management

Job scheduling according to user specific roles
Compute resources are user exclusive

User maintained, containerized environments

Singularity containers
(runs as normal user, GPU, Ethernet and Infiband support)
Anaconda Environments
(easy updates, project / user specific environments)
Built-in matching between GPU driver and ML/DL tools
Roadmap
11/2022: SC release

improvements
planed features

full batch job support
FPGA support
CPU only jobs
new job monitoring (for users)
batch job support (beta)
Releases
04/2018: Carme prototype at ITWM

03/2019: r0.3.0 (first public release)

07/2019: r0.4.0

11/2019: r0.5.0

12/2019: r0.6.0

07/2020: r0.7.0

11/2020: r0.8.0

08/2021: r0.9.0

05/2022: r0.9.5

09/2022: r0.9.6 (latest)
Documentation
Visit our documentation at github.
Who is behind Carme?
Carme is developed at the machine learning group of the Competence Center for High Performance Computing at Fraunhofer ITWM.

NOTE: We are open for contributions!
Contact
→ dominik.strassel@itwm.fraunhofer.de
Sponsors
The development of Carme is financed by research grants from